The ultimate handwriting app
Special Edition - Share Anytime Released!
An innovative handwriting app for use on all tablets

Share Anytime will cause a great revolution in how online meetings are conducted!
On October 9th, MetaMoJi launched an innovative app called "Share Anytime" building off the technical advances in Note Anytime.
Share Anytime is a revolutionary app for virtual meetings!
Chapter 1
Each handwritten stroke is instantly synchronized with dozens of iPads, creating a revolution in running virtual meetings.
Share Anytime can be summed up as "Note Anytime that can synchronize data in real time".

In the photos – both iPads instantly see the same image. In order to see how revolutionary the app is, you have to see it in action.
When drawing a stroke on one iPad, it is displayed on the other iPad almost instantly. If you look at both iPads side by side, the stroke seems to be simultaneously displayed on both screens.

Share Anytime will run just as well between two devices, as it will for three or ten. Also it does not matter if those devices are on the same LAN or if they are across the Internet in remote locations (The paid version of Share Anytime allows to display simultaneously up to 100 devices).
According to the running test MetaMoJI carried out at the end of last year, 50 staff (in Tokyo, Tokushima in Japan, New York and other places) were able to write on the same document at the same time. This was an incredible feat.

It is difficult to express this app in words, I highly recommend you use it first. You can download the free version for trial. It can be said that Share Anytime has infinite possibilities.
Chapter 2
Delivering previously authored meeting materials.
Writing on the document and including participants during the meeting.
Share Anytime meeting invitations need to be sent out in advance: for example, a board meeting by multiple people in remote locations etc.
You can send a necessary document (such as financial data for a meeting) in advance via e-mail. When the meeting starts, the document is shared as a Share Note. All participants can browse the same page that is now opened by a chair and they can also contribute thoughts to the document.
| | | |
| --- | --- | --- |
| | | |
| In MetaMoJi's meeting room the iPad screen was displayed as through a TV connected with Apple TV. The TV display showed the identical session as each participant's iPad. | | The strokes drawn by the Laser Pointer show a highlighter that is displayed for only a few seconds and then fades away. The laser pointer is convenient to use for indicating the parts of a document you want to emphasize to participants in the meeting. |
Chapter 3
Exchanging instantly with people in the same room as well as in remote locations
I hear that MetaMoJi staff have been using Share Anytime in actual meetings since last year.
MetaMoJi spent substantial resources to achieve simultaneous response time to live collaboration within the app. Anyone who actually uses Share Anytime would be amazed at the lightning fast response time.
This is achieved because Note Anytime's vector data is composed of a very light footprint.
Important memos that are decided in the meeting such as "Sales Target $1,000,000 month", tend to be vague and forgotten after the meeting. But with Share Anytime, you can rest assured you will have a digital record of all that took place in the meeting.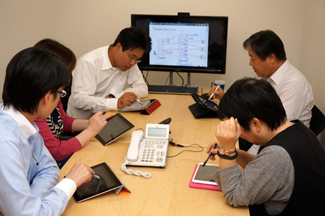 The MetaMoJi meeting scene.
When holding a meeting with remote branch offices, MetaMoJi uses Skype and Share Anytime. They report that the ability to share has improved using Share Anytime compared to using only Skype. 。
Chapter 4
Share Anytime allows flexibility in assigning roles to each participant, (such as being a Chair or Presenter). And operation is limited in accordance with each role.

This button is used for delivering a Share Note, adding participants, taking or passing the chair of a meeting.

By tapping this button, you can switch to Share mode or Private mode. Private Mode allows you to write a personal memo that is not shared with other participants and you can switch any pages in this mode.

Nicknames and roles of each participant are listed here.

You can write a comment in the Chat area on the Share Bar, or chat with other meeting members. It is convenient to consult other meeting members without writing on the editor's screen.

Tapping [Done] button moves to Digital Cabinet. [+] button is used for adding a new page, items, photos and web pages, or creating a new note.

Laser Pointer is like a dynamic highlighter It can be used for indicating the parts that you want to emphasize in a document. The strokes you draw will fade out a few second later.

Many of the tools (Pen/Eraser/Lasso/Text) are identical to those in Note Anytime, but currently Note Anytime text input speed is faster than that of Share Anytime.
| | | | | |
| --- | --- | --- | --- | --- |
| ■Send the first edition of a document via e-mail etc. Only the difference of each edition is uploaded and downloaded. | | ■Setting a Chair allows you to control which pages are browsed. | | ■Participants can operate a meeting freely without designating a chair. |
| | | | | |
| To start a meeting, it is necessary to deliver a Share Note or URL first by mail, Twitter or Facebook. By opening the Share Note in Share Anytime, anyone can join a meeting. | | This type of meeting is called a Moderated Meeting. When setting a Chair, the page that a Chair now opens is displayed on all participants' screens. A Chair can allow participants to open the same page simultaneously that he/she wants them to browse. | | The meeting type without setting a Chair is called a Free Meeting. All meeting participants have an equal role. Every participant can write memos, display anywhere he/she wants to browse and turn pages (unless you set roles in [Participants Setting] screen). |
Chapter 5
The person called a Owner (the one who organized a meeting and created a Share Note) invites participants by delivering the note or URL via e-mail, Twitter or Facebook.
Let's explain how to start meeting here:
    
1. First Share Note is uploaded to the Share Server.
2. Participants receive the Share Note and open it in Share Anytime on each device, then Share has started.
3. When a participant writes something on the Share Note, only the difference of data is uploaded to the Share Server and then it is downloaded to each device through the Share Server.
4. By utilizing the Share Server as a hub, it makes it possible to minimize the information to be sent and to achieve a quicker response.
5. You can start a meeting by delivering a Share Note to each device via mail, etc. and also you can create a Share Note from scratch using Share Anytime.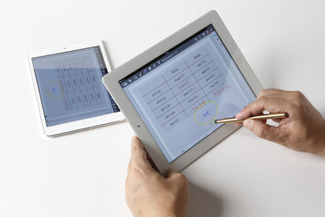 1. Open a note that you want to share. Then tap [Start Meeting] in the upper right corner of the screen.
2. You can set a meeting as a Free Meeting or a Moderated Meeting.(Ver1.7.3)
3. With this dialog, you can select how you want to deliver a Share Note.
4. If you select [Send E-mail], the Share Note is sent as an attached file.
5. If you select [Send E-mail], the Share Note is sent as an attached file.
6. The Share Note is loaded in Share Anytime and the connection to the Share Server is completed. When writing something on the editor screen, you should be surprised to see the trajectory of writing displayed on other devices in real time.
7. With [Share] menu screen, you can manage Share Settings.
8. With [Share] menu screen, you can manage Share Settings.
| | | |
| --- | --- | --- |
| | | |
| If you have already registered to Digital Cabinet through Note Anytime, the account is available for using Share Anytime's Digital Cabinet | | You can chat with other meeting members. This function is useful when you do not want to write on the editor screen. |