The ultimate handwriting app
Special Edition2 - Use effectively Share Anytime!
Magic App that links every tablet!

Drawing something on a tablet with Share Anytime, strokes can be simultaneously displayed on other tablets. It seems to be a magic, but it is hard to tell how amazing. Please feel this excitement with having a wild imagination.
Chapter1 Notes and Memos written on a meeting document can be shared!
Here is a good example how to use Share Anytime.
First, deliver a meeting material previously to participants and share it. Comments written by participants will be displayed on each device of all members.
You can write down what was determined at the meeting.
When creating a Share Note, it is useful that an owner who organises a meeting specifies pages to each participant for importing and pasting meeting materials such as photos and graphs before starting a meeting.
| | | |
| --- | --- | --- |
| | | |
| Once you use Share Anytime, you will see that everyone can write on the same document is so useful. A chair who moderate a meeting can control the display area by scrolling and pinching the screen . | | |
Chapter2 Let's collect photos and memories of a trip on a piece of paper with Share Anytime!
Using Share Anytime via Internet, you can share a note beyond the time and space. Share Anytime allows you to paste photos, import maps and write comments.
Share Anytime can be available to work out a plan for a new trip. Proposals of a variety of people will gather on a piece of paper with Share Anytime.
Share the moment with your friends or family members at a long distance.
Share Anytime allows you to communicate something different with handwriting and using photos and images freely. Share Anytime is an innovative app!
Chapter3 New intelligence may be born by sharing everyone's note!
Do you remember the scenes of classes in your school days?
Did you have an experience that you always took notes hard what a teacher wrote on a blackboard but did not remember anything because you were so busy to take notes.
If Share Anytime were used in my school days, such a thing would never happen.
Students can think together with looking at materials created by a teacher or classmates using Share Anytime.
Memos someone written on a note can be shared immediately. Also they can correct, delete and add memos.

Even a shy student who hesitate to say his/her ideas during classes can write comments.
Share Anytime must innovate classes if all students have chance to think together.

If a teacher become a chair, he/she can make students to get attention to specific item taking the initiative and each student can study more what he/she wants to know. The teacher can give lessons in his style having the high degree of freedom. That is one of the merit of using Share Anytime. It may be embarrassed by being shared the doodling you wrote in the corner on the note!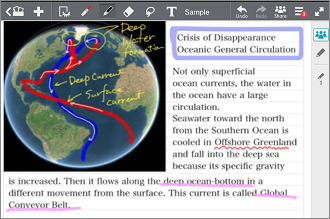 You can share materials created by a teacher as well as memos written by classmates. Also you can create a study note and prepare lessons.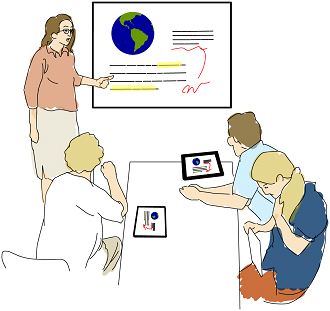 Chapter4 Gather ideas and strategy of coaches in the world on the Head Coach's tablet!
Recently, we often notice that a head coach and coaches have tablets in sport scene. Share Anytime must be useful in such a scene.
For example, if a head coach and coaches share the strategy board with Share Anytime, directions by a head coach are transmitted to coaches immediately.

Conversely, the head coach easily to catch sight of advices and suggestions from coaches.
Share Anytime allows to import photos and images created with another apps and write comments with handwriting.

As long as a note is shared with Share Anytime, coaches do not need to be next to the head coach. They can share a note through the Internet even if they are in the other side of the earth.
It will come true in the near future that a coach watching a game on TV can give directions and the key to victory to the head coach.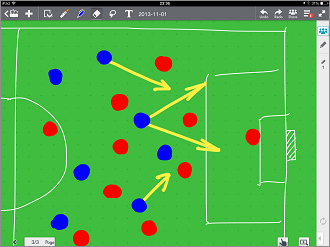 You can import a ground image and write comments on it.