The ultimate handwriting app
Lesson.6 - Sample Documents
An innovative handwriting app for use on all tablets

The comfortable feel of the pen tools!
I have introduced the various features of Note Anytime in previous issues. This time, let me introduce what you can do with Note Anytime functions. Because Note Anytime allows you to use combine both typed text and handwritten words, you can easily create a variety of documents.
Share documents easily with Shared Drive. Shared notes have become especially convenient.
One of the basic functions of Note Anytime, the cloud service "Digital Cabinet" has been used to create the sharing feature, Shared Drive. Starting with version 2.1, this has become even easier to use, and the details are explained here.
In order to use Shared Drive, users must register with Digital Cabinet, and apply for the Anytime Paid Option (currently available free for a limited time).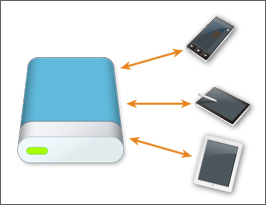 Step1 First, one person makes a Shared Drive, and invites other members.
Making a Shared Drive is done in the same way as other ordinary cloud applications. Someone first establishes the drive, and then invites other members. Use the e-mail addresses registered in the Digital Cabinet to send the invitations.
| | | | | |
| --- | --- | --- | --- | --- |
| | | | | |
| First, one member of the group who will be sharing a drive selects "Create Shared Drive". | | Register the addresses of the people registered in Digital Cabinet, and apply. | | Each member's Shared Drive displays a message to let them know that a Shared Drive has been made. They touch "Join" to join. |
Step2 Make a document and save it in Shared Drive. By opening this, the sharing begins.
It's so convenient to make shared notes in Share Anytime. Before this, it was necessary to send e-mail invitations to everyone before starting a meeting, but by just setting up Shared Drive once, from the second use onwards, just put a file inside to start a meeting.
When sharing with Share Anytime, first make
a shared note in the Local Drive root.
Next, put the note that was made in the root
into the Shared Drive. This note can now be
shared during the meeting.
By sharing with Note Anytime, just make a note.
You can share documents with other members.
Step3  Share it once, and you'll be surprised how easy it is to share a note anytime.
Just use Share Anytime to open a shared note that was placed in the Shared Drive. It makes holding a meeting that much more convenient.
Just by opening the notes in each Shared Drive, the notes become linked.
With this version update, Share Anytime has begun to show its true value. Do give it a trial run.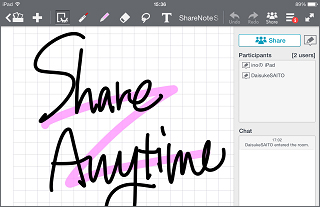 Just open a shared note that was placed in Shared Drive, and a meeting can begin. That's so handy!


Establish settings for each participant to limit their authority, as mediator, speaker, etc. It is also possible to use it without doing any settings for participants!
    The notes on three iPads are totally synced up. It's moving to see how the picture appears almost
     simultaneously.
Step4  Other functional details like menu structure have been given a solid revision.
In addition to Shared Drive, there are a number of other improvements. Version 2 was a big jump, but this time a number of small adjustments have made it much better. Redesign of menu structure, and the ability to change the title by tapping the title bar are two convenient changes. Other convenience-enhancing functions have also been added, making the app well-supported.
The Convert to Text feature introduced last time can convert text even if it is not written in clear block letters. In fact, even if the words are written at different angles, the program will analyze the angle of the text and convert it. Even casual handwritten notes are converted to text with ease.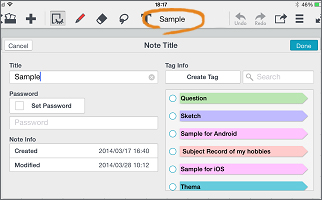 The menu items have been organized into a hierarchical structure, making them easier to use.
| | | | | |
| --- | --- | --- | --- | --- |
| | | | | |
| In version 2.1, the function where the title can be changed by tapping the menu bar has been revived. | | A "Send to iTunes" feature has been added to the Share Menu. Now there are more ways for Macs to use data. | | The Text Attribute Bar has become even more convenient. Not only can the letter color be changed, but the background color can also be changed. |